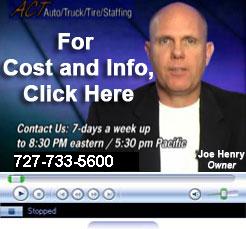 To see how our recruiting website works, click any of the videos below:

ACT Auto/Truck/Tire Staffing
SERIOUS RECRUITING SINCE 1998


Need To Fill A Position Fast?
Need To Upgrade Your Staff?
ACT delivers YOUR organization quality auto/truck/tire candidates' resumes anywhere in the U.S. within 24 hours of signing up
Be proactive! Catch some of the talented worker/job seekers when they come on the market for YOUR organization. Sign up with ACT today.

&nbsp
# of
Candidates' resumes available


Accessory Installer/12/24 Volt Technician
122
Accounts Payable/Receivable
2783
Aftermarket Dealer Rep/Agent
64
Apprentice, Lube, Tire Tech
5287
Auto Body Painter/Painters Helper/Prepper
1637
Body Shop Estimator
1981
Body Shop Manager
1400
Car and Light Truck Technician
8932
Car and Truck Sales Manager
4977
Car/Truck Sales/Transportation Consultant
6429
Cashier
1137
Collision Tech
1528
Comptroller
539
Dealership CRM/BDC/ILM
1837
Detailer
2066
F/I Manager/Special F/I
4256
Fixed Operations Director
1395
General Manager
1221
H. R. Manager/Recruiter
281
Internet Sales or Manager
1897
Lot Porter
1180
Med. & Heavy Truck Tech
7021
Medium & Heavy Truck Sales
358
Misc. Auto/Truck/Tire Positions
290
Office Manager
1814
Parts Counter/Outside P. Sales
3082
Parts Manager
3704
Parts Stock Person
874
Parts/Courtesy Van Driver
941
Receptionist
1825
Rental Car Manager
73
Ser. Advisor/Counter Sales
8650
Service Drive Greeter
146
Service Mgr./Retail Store Mgr.
6672
Title Clerk
1689
Tow Truck Operator
212
Trans Tech/Specialist
362
Truck Driver
192
Used Car Manager
1142
Warranty Administrator
1289
How Do We Get So Many Auto/Truck/Tire Job Seekers?
Ads Run in 165+ Newspapers Across The U.S.
Ads Run in MotorSports Magazines
Ads Run in Trade Magazines
Partnerships With Other Large Job Boards
Affiliations With 400+ Auto/Diesel/Body Shop Trade Schools
ASE & ICAR Test Stakeouts
High Listings On Search Engines
Auto/Truck/Tire User Groups
Independent Repair Facilities
Thom Marshall - Marshall Motors in Dallas TX - "It not only helped me to find 2 Techs but a Service Writer also. Now I'm looking for a shop helper and getting lots of responses off the site. I should have that position filled by next week."

Peyton or Nancy Knight - Knights Automotive Repair - "ACT brings us fresh leads on Techs anytime we need them."

Rob Hopp - Automotive Advantage LLC in Grand Haven, MI - "Thanks Joe, quick response to a web fix! By the way, found two mechanics within two weeks. Great SERVICE!!"

Christine & Michael Galusha - Japanese Automotive Specialist - "We tried other services but no results. Then we tried ACT and got the Service Advisor & Techs we needed."

Debbie Griffin - Uptown Imports in Charlotte, NC - "Thank you so much for your service; we have gotten a lot of responses. We have found our final BMW Tech and he starts on the 27th. So we now have a Jag Tech, Mercedes Tech AND BMW. All with 10 years experience, thanks to your service."

Ray Schneckloth, Human Resources - Hanser's in Billings, MT - "First off, I wanted to let you know that we have hired a young man from the list of resumes that you sent to us. We interviewed 5 other applicants and he was the most qualified, interesting, and knowledgeable. He has become a magnificent asset to Hanser's and he is well-liked by all who come in contact with him. It was through YOUR search and resume submission that we found him! Thank you so very much!"

Donna - Manager, Diamond Bar Auto - "You provide a great service and we still have plenty of resumes to go through to hire another technician like we already have from your service. It is a very important mission you fulfill, since the industry is in such a flux. To predict the future and what changes we need to start making right now to keep profitable and still provide an affordable, quality service would put us at the top of the heap. My opinion is that employees are the resource to really invest in right now - education, benefits, great working environment, etc. How to provide that as an independent and not go bankrupt is the trick. Thanks again."

Tire & Chain Stores
Sheryl Deboff - Gemini - "This recruiting program brought my tire stores more Techs, Asst. Store Mgrs., and Store Mgrs. hires than all my other methods combined, including the newspaper."

Jim Camron - Midas Service & Tires - "I have really gotten good hires off this program. I would be glad to recommend it."

Bill Brink Jr. - Carol Wuertz Tire - "Called ACT on a Monday, by Tuesday we had hired one and possibly two off of the resumes they sent us. Can't ask for better service than that!"

Jim Catapano, District Manager - Midas company owned stores of Florida - "I can call these guys on the weekends or late at night and submit a request. By the next morning when I turn on my computer it is usually done. Great service, Joe!"
Large Truck Facilities
Susan Williams - First Vehicle Services - "I have been using ACT for many years. They are always able to bring me fresh resumes anywhere I need them in the U.S."

Lynn Medlin, Service Director - UD Trucks of Charlotte - "Great results, that is why I keep using ACT."

David Schwartz, Owner - Progressive Truck Center - "I was hesitant to use this kind of service, but the newspaper was bringing me poor candidates. As I told Mr. Henry, this program brings me the cream-of-the-crop."

Hank Stevens, H.R. Manager - Freightliner Trucks of South Florida - "You have been responsible for me hiring 5 VERY hard to find Diesel Engine Technicians. Thank you!"




Bryan Stasch - Automotive Training Institute in Baltimore, MD - "Joe, I have to tell you, ACT is everything you told me it was. I have heard nothing but good things from the clients who have been working with you. I also know from personal experience, I received 20-30 resumes for the ad that you posted for me and hired a great candidate."


Karen Bryson, National Recruiting Manager - Pep Boys - "Our Recruiters are extremely pleased with the quality of candidates received through ACT. We are in the midst of an aggressive flat-rate hiring program across the country and ACT was listed as one of the top keys to our hiring success to date."


Joe Iannelli - New Jersey AAA Approved Auto Repair Department - "We heard from one of our New Jersey AAA Approved Shops about this program. We checked them (ACT) out thoroughly, and now we recommend their program to all of our New Jersey AAA Approved Repair Shops."

What employers are saying about ACT's service from coast to coast, north to south, rural to big cities:



Auto Dealerships

Cheryl Bennett, H.R. Director - Crevier BMW - "We called ACT at the end of the business day, the next day we were interviewing. Talk about instant gratification."

Doug Pierce - Capital Cadillac - "I have been Fixed Ops Director at this dealership since 1988 and have always had positions that needed to be filled. By following ACT's recommendations, this is the first time ALL positions are filled!"

Ted Linhart - Dominion Auto Group - "This program is so effective we keep renewing each year."

CARL Nyman - Bucahnan Group- "I have successfully used this program to hire all positions for our dealerships from Florida to North Carolina. It just keeps getting better year after year."

John Gilliss - Friendly Isuzu- "When I need any personnel for my three dealerships, I just call them (ACT) and within a few days I have great candidates. I have hired Techs, Sales People, a Service Manager, and a couple of Service Advisors."

Tom Roberts - Superior Lincoln Mercury - "Not only did I hire a couple of Techs, now I am upgrading my staff. I recommended it to my Ford rep for any of his dealers who were having a hard time."

Andrew Gates - Sunland Ford - "I hired four techs including a Ford Master in 2½ months & won the ATCON 'Best Idea' with this program."

DAVID Ciener - Ciener-Woods Ford - "I am very satisfied with the results."

Doug Sharp - Sharp Chevrolet, Pontiac, Toyota - "I have hired both positions I was looking for. Thanks for your help. I was once again pleased with both the quality and number of inquiries I had."

Chris King, Comptroller - Gary Smith Honda/Gary Smith Ford/Tim Smith Acura - "We really are getting some good results from your service."

Bill & Jean Scheid - Scheid Motor Company, Taos, NM - "At least we know we can continue to safely search your resume data base and appreciate your service. It is truly the place to go to fill any dealership job openings without having to weed through people who have never worked in the auto industry! Thanks again - Bill & Jean"

Tom Wadler - Tom Wadler Auto Group - "We have dealerships in rural areas as well as suburbs of big cities. ACT always can help us fill our positions no matter which dealership I need help with."

Ron Holland - Dunn Auto Group, North Carolina - "Joe, we used to pay headhunters $10k PLUS for top Managers in our group. Now we find and recruit BETTER candidates on ACT than the headhunters brought us! Our substantial savings helps our company be able to pay our people better."